Today I am a little tired from work. Work was same as usual. When we chat b/f asked me about food in Philippines, so I tell him our breakfast in this morning is "pinakbit", a vegetable dish with a small amount of meat and lunch was a vegetables again with soup, chopsuey with rice and juice. Dinner today is dried fish and vinegar, with rice.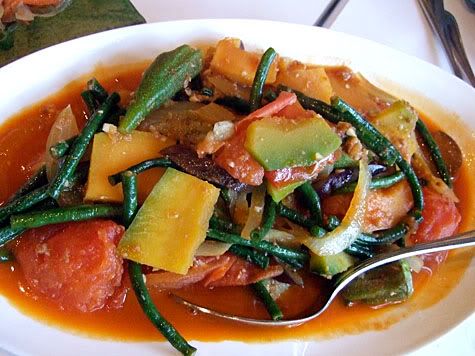 pinakbet.. from restaurant
Pinkabit is eggplant,
sayote
, squash, okra, string beans,and pork meat. This is an
internet recipe
- although very fancy - I am not sure this recipe would make pinkabit that Llanna and Panni would recognize.
Boyfriend asks what is in soup. I tell him
pechay
,
sayote
, carrots, pork meat, tomato. Broth is from the pork ribs.
I have to budget the money for the next day salary is paid. When b/f sent me gift we celebrated. I stocked up on foods and bought the girls some ice cream, cake, good things or fun things that we normally don't have, after I did the priorities he wanted. School, dentist, flood repair, then extra for treat food. Llana and Pammi and I sometimes have ice cream sandwich for treat.
For special occasion we will roast a chicken. I think one of my favorite food is
lechon manoc
, but on my salary we normally can not afford it.
More typical, we would eat eggs, fried eggs for breakfast and rice. Something like sardines or dried fish and rice for dinner. Eggs are cheap only 6php ($0.15) each. Because we are in the town we can buy them and our diet has a lot of fish because we are near the sea and we can buy for little amounts. If I don't have enough money I will owe here at my neighbor's store and pay it on my salary day. Dried fish and sardines are the cheap food here but they make shiny healthy skin.
When I met b/f , I am sad to say, I was embarrassed and asked him for help because of the poverty here. My salary just is not enough for our needs. Especially school fees. I had to pay for Pammi's exam fee and felt I had no choice but to ask.
Oh yes, I went to the dentist in this morning for the result of my fitting if my dentures, and have to back tomorrow again because I feel they hurt face. Dentist needs to adjust.
My b/f told me there are about 350 bloggers from Cagayan de Oro, the city near here, but only one priest has serious blog. All the others are happy times and love stories. Many blank. Students start blog then have nothing to say. None are about what life is really like on day to day. Some people are better off, but many are not. Blogs do not say this.